By Fred Branfman, AlterNet
"Future historians will marvel at how U.S. leaders failed to
learn from their horrific crimes in Indochina, and are
instead repeating many of them today."
"...As an idealistic college student, Clinton protested Kissinger's mass murder of civilians in Indochina. She knows full well that had the international laws protecting civilians in war been applied to Kissinger's bombing of civilian targets in Indochina he would have been indicted for crimes of war..."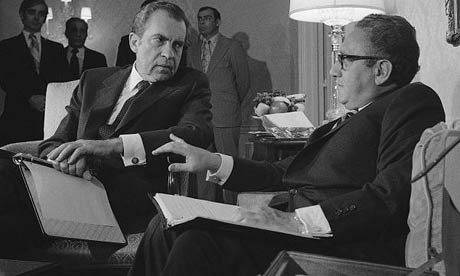 HILLARY CLINTON YOU WHORE! YOU HAVE BECOME THE VERY DEFINITION OF THE PROBLEM WE FACE WITH OUR 'GOVERNMENT'. YOU KNOW FULL WELL WHO AND WHAT HENRY BLOODY KISSINGER IS. YOU ARE NOW A PART OF THAT. PERHAPS YOU ALWAYS WERE PART OF THE DARK SIDE, EH? I ALWAYS SAID BILL CLINTON WAS THE BEST REPUBLICAN THE DEMOCRATS EVER RAN. I BELIEVE POSSIBLY YOU ARE BUT A PART OF THE DEVILS CREW INFESTING THIS WORLD.
SHAME ON ME, FOR I AM A LIFE-LONG LIBERAL DEMOCRAT.